Introducing our virtual event platform, the ultimate solution for hosting seamless and engaging online events.
Whether you're hosting a conference, trade show, or any other type of event, our platform allows attendees to experience the same level of interaction and connection as they would at an in-person event. From live-streamed keynote speeches to virtual vendor booths and interactive networking opportunities, our platform has everything you need to make your event a success.
With our virtual platform, you can reach a wider audience, reduce costs, and create a more sustainable event. Say goodbye to the constraints of physical location and hello to a limitless world of possibilities with our virtual event platform.
Take A Closer Look
See how your next event can set the bar higher
Audio & Live Sound
Online or offline, the sound system can make or break your event. Rest assured that our team of professionals will deliver the highest quality possible for both live stream broadcast and on location events.
Branded Interfaces
Not looking to create 3D Environments? No problem. We can create your own easy to navigate interfaces that are uniquely yours.
Branded Halls & Webinars
Let your guest speakers represent your brand in the best light possible. Give your hybrid or virtual event a touch of class with branded webinar halls to suit every event.
Gamification & Leaderboards
Get attendees engaged with games to liven up your hybrid or virtual event, all hosted in real-time for an added challenge. Leaderboards help keep score and helps incentivise prizes and rewards for even more participation.
Networking & Matchmaking
Online or offline, the sound system can make or break your event. Rest assured that our team of professionals will deliver the highest quality possible for both live stream broadcast and on location events.
Ticketing
Whether it's free tickets or paid, we will help you integrate your registration system with our event or simply user our direct platform registration.
Feature-rich Exhibitors
Tailor-made 3D exhibition booths with a multitude of functions that will get your exhibitors real engagement. From chatting, scheduling meetings, video calls, seeing who is live on your booth, interest registration for participants and detailed reports. Your exhibitors will be wowed!
Branded 3D Environments
Make your virtual event uniquely yours. Let your brand shine through with a customised and immersive 3D experience that will make your attendees feel like they part of the event.
Branded Photo Booths
Let your attendees make memories; branded photo booths at your next hybrid or virtual event with us gives your attendees a fun souvenir to take home.
LED Backdrop Screens
Your event is only as effective as the attention span of your attendees. Stun your audience in immersive and stunning visuals of seamless virtual reality.
Sponsors & Partners
Give your sponsors and partners the spotlight. Showcase them in unique ways within a fully virtual environment that feels organic, but is also 100% customisable.
Integrations
Need your CRM software or email marketing platform integrated with the event? Not a problem. Our technicians can help back-end integrations so that your next hybrid or virtual event can be managed comfortably.
Full Customisation
Beyond colours and logos, make your next hybrid or virtual event uniquely yours with a full suite of customisation options. From platform/software integration to themed 3D environments, just send us a request and we'll do the rest.
Mobile Friendly
On the go? Not a problem. Our platform is built to optimise performance for mobile devices. Get the full experience, sans desktop, so even those out and about can enjoy everything your hybrid or virtual event can offer.
Event Landing Page
Wow your audience at first load. Dazzle attendees with a fully customisable landing page for your hybrid or virtual event; whether it's to register or learn more about the event. Tell us what you need and we'll do the rest.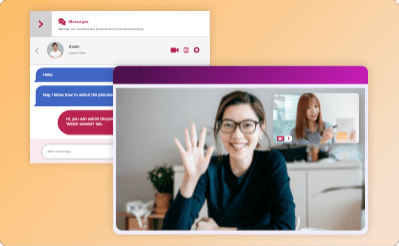 Interactive Chatrooms
Share documents, start video calls, swap business cards and so much more. Give your hybrid or virtual event interactive chatrooms that bring your audience together, just like an on-ground event.
Dedicated Support
Whether it's technical troubleshooting or helping your attendees get around, your hybrid or virtual event has a dedicated support team online. No bots, no docs, just real expert humans.
Event Reporting
Metrics of every kind, customised to your needs so you can create another successful hybrid or virtual event that elevates your brand further. Get detailed breakdown of various data points, with recommendations, key lessons and more.
Event Production & Live Streaming
Take your event production to the next level, with state-of-the-art production equipment covering every aspect of your event. And not to forget our flawless live streams broadcasted to your online audience.
Discover all the features that makes Sevenue's Virtual Event Platform the #1 platform in Malaysia!
Fully customisable to let your brand shine bright. Colour palettes, logo, taglines and more: give your brand space to stand out. These options allow your hybrid or virtual event stand out visually and leaves a grand first impression to guests.
Don't let your attendees be a passive crowd: our suite of interactive features lets your audience engage with speakers, stand a chance to win prizes and even make meaningful connections and networking.
Let your attendees book a table to connect with fellow attendees, or to seek advice from specialists or even get more information from exhibitors. Swap business cards, access document packets, schedule meetings and even have voice calls— the potential is endless.
Get real-time analytics, allowing the team to optimise the event to its maximum success potential. And once it's all done, get a full rundown of what worked down to the decibel. These reports are then formatted and shared over in an easy-to-understand document, making updates easier for your internal team.
Need to connect to a specific platform or use a specialised software? Our team of developers can help integrate your needs seamlessly into your event; making it easier to manage, familiar to your team and worry-free. Leave it to us to help bring your event to life on your terms.
Keep data and attendee information safe and secure. Using sophisticated protection, rest assured that data is handled respectfully for both the brand and attendees. Security can be further enhanced and customised to your liking and needs.
The biggest deal for us: whatever you need and however you need it, trust the Sevenue team to bring your next hybrid or virtual event to life. From animations, video to even marketing materials, we're putting control back in your hands for a successful event that's uniquely yours.
Make your event stand out from the rest.
We can't wait to work with you on your next event. Let us help you take it to new heights!